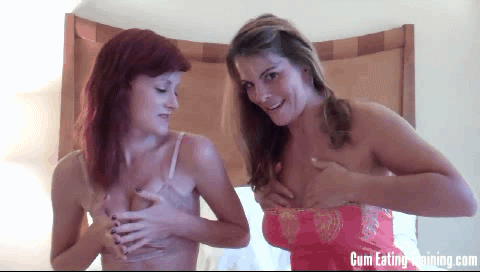 share gif:
Hollis Ireland and her friend Heather are two kinky hotties who love nothing better than making men their slaves. You do what these gorgeous fetish babes Hollis Ireland and Heather so or they are going to make your life a living hell.

Look at him, he's hard as a rock. You can't even be in the same room as us without getting a hard on can you? You had better take out your cock and take care of that or you are going to be hounding us all night long. We are going to help you out, so get that cock out of your pants and start stroking it while we tease you.

When you are about to cum you have to let us know. We have a little shot glass ready for you so that when you cum, you can jizz right in it. After you are done you are going to down your own cum like a shot all in one go. Make sure you don't spill a single drop or we are going to lock your cock and balls up so tight you won't be allowed to cum for a year.
-Hollis Ireland & Heather Silk