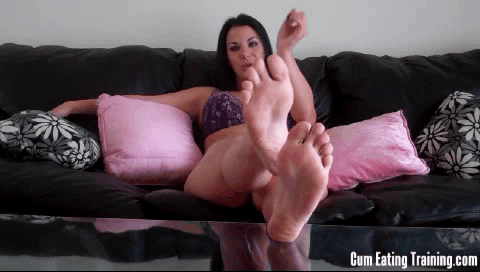 share gif:
Kenna Valentina is a dark brunette bombshell who loves telling men what to do. Once you get a good look at this busty fetish babe Kenna Valentina's knockout body you will do every single thing she asks you to.

Wait, you have never been brave enough to taste your own cum after you've masturbated? Well, we are definitely going to have to change that because we can't have you going through life without knowing what a hot load of cum tastes like, especially your own. You are going to come to love the tasted of you own jizz when I am through with you.

OK, now take out that cock and start stroking it fast right off. I want you to cum as fast as you can so don't stop for even a second. When you are close to cumming, cup your hand like this and jizz in the palm of your hand. Now lick it all up in one go. So, how did it taste? Didn't like it? That's ok, because I am going to make you jerk off again and again and eat your own cum until you love it.
- Kenna Valentina