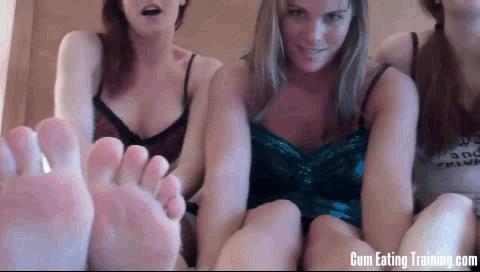 share gif:

Hollis Ireland, Goddess Shea, and Heather are three devilishly sexy fetish babes who love teaming up and making men do nasty things. Take one look at any of these three smoking hotties and you will do whatever they say, no questions asked.

Did you know that every guy's cum tastes different? It's true, and we are going to make you find out exactly what your own cum tastes like. I hope you came here hungry because when you leave you belly is going to be full to the brim with your own cum. Go ahead and take out your cock and start jerking, you have a long night of cum eating ahead of you.

We're going to help you out by letting you look at our hot bodies while you jerk it, and we even brought this handy little shot glass for you to cum into before slurping it all down. When you take your load in your mouth, you have to really swish it around in your mouth so you can get the full flavor of your own jizz.
- Heather Silk, Goddess Shea, & Hollis Ireland