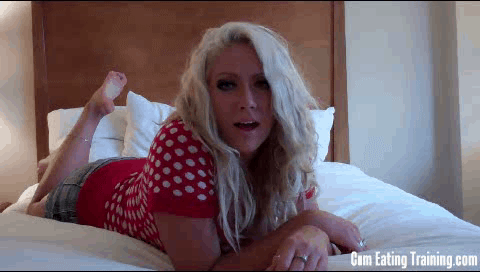 share gif:
Natalie Laine is a scorching hot fetish babe with curves in all the right places. Once you get a load of the knockout body on this mistress you'll be glad to do anything she says, no matter how nasty.

Do you remember that one time that you told me you thought it must be gross for women to swallow guy's cum? Well I definitely remembered and that is exactly what you are going to do tonight. You're going to take off all your clothes, lay back, and jerk off until you cum. When you blow you load I want you to make sure you do it in the palm of your hand so you can slurp it all up.

You're lucky that it's your own cum you are eating tonight because I could easy call up a couple of my big cocked friends to come over and feed you come of theirs. That's what's going to happen if you spill a single drop of your own jizz or don't finish it all. Now get jerking before I decide to punish you more.
- Natalie Laine